The best two Schuessler organic cream for a younger looking skin! Smoothes early wrinkles on the face.

Content: 75 ml + 75 ml

100% natural ingredients
shea butter content
paraben-free products
allergen-free
100% product guarantee

Availability:

Raktáron

Loyalty points available to receive:
195
Expected delivery:
March 20, 2018
Calcium fluoratum ensure tissue elasticity, ease blood flow, and reinforces blood vessels' walls. Another essential nutrient in the human body is Silicea mineral salt, which is commonly referred as "Prevention and beauty salt". 
The No.1 + No.11 Schuessler combination cream smoothes wrinkles on face, soften skin on hands and treat vein problems, like varicose.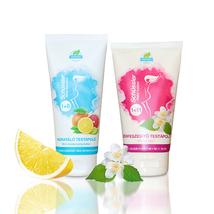 There are no reviews for this product.