Schüssler Age Protection set
Click to enlarge

Premium anti-wrinkle treatment with 3 TOP Schüssler Premium products! Choose the best for your skin!

Content: 50 ml + 50 ml + 15 ml 

100% organic ingredients
paraffin and paraben free
enriched with Dr. Schuessler tissue salts
contains stem cells extract and hyaluronic acid

Availability:

Raktáron

Loyalty points available to receive:
550
Expected delivery:
March 20, 2018
The Schuessler Premium set contains 3 of Premium products! These are the Premium day and night cream and the anti wrinkle eye cream.
Care highlights:
- suitable for mature & demanding skin
- fights the signs of skin aging
- stimulates collagen production
- improves elasticity
- firms & smooths the skin
- protecting property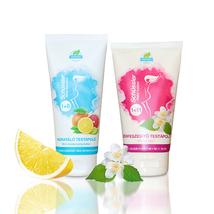 There are no reviews for this product.