Schüssler pigmentation treatment
This set contains two Schuessler organic cream No 1 and No 6 - the ideal treatment for pigmentation disorders.

Content: 75 ml + 75 ml

100% natural ingredients
shea butter content
paraben-free products
allergen-free
100% product guarantee

Availability:

Raktáron

Loyalty points available to receive:
200
Expected delivery:
March 20, 2018
Color of the skin depends on the activity and distribution of melanocytes and melanin granules. No.6 Schüssler natural cream contains Potassium sulfate mineral salt which has a reducing effect against pigmentation marks. Also enriched with titanium dioxide with  UV   light absorbing capabilities .
No.1 Schüssler firming cream moisturize your skin on an everyday basis.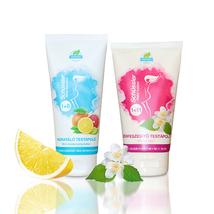 There are no reviews for this product.