The serum contains our special ACNILYS® formula which combines the benefits of plant-derived propanediol and Rhodomyrtus Tomentosa fruit extract. This serum helps reduce the excessive sebum production of skin, tightens pores, soothes inflammation and prevents further breakouts, while improving skin elasticity and effectively hydrating it. Recommended for treating oily, combination, and sensitive skin.
With Natrium phosphoricum and Natrium chloratum Schuessler's mineral salts. 

Content: 30 ml

oil-free serum
With Nr.9 (Natrium phosphoricum) and Nr.8 (Natrium chloratum) Schuessler tissue salts
100% natural ingredients
ECOCERT certified ingredients
Does not contain petroleum byproducts or parabens
Cruelty-free, the product and its ingredients are not tested on animals
vegan product

Availability:

stock

Loyalty points available to receive:
280
Expected delivery:
August 04, 2021
Average Rating:

(22)
Description
Created with our special ACNILYS® formula which combines the benefits of plant-derived propanediol and Rhodomyrtus Tomentosa fruit extract to care for inflamed, oily, and acne-prone skin. This special formula helps reduce the excessive sebum production of skin, tightens pores, soothes inflammation and prevents further breakouts, while improving skin elasticity and effectively hydrating it. Recommended for treating oily, combination, and sensitive skin.
About plant-derived propanediol
The propanediol in our Mattifying Face Serum is moisturizing and improves skin elasticity, making it feel softer and smoother. What distinguishes it from other types of glycols is that propanediol is not a petroleum byproduct, it is entirely derived from plants making it a natural, ECOCERT certified ingredient.

Rhodomyrtus Tomentosa fruit extract

Rhodomyrtus Tomentosa fruit extract restores the balance of sebum production in the skin, reducing shine and redness. It fights inflammation, shrinks large pores and soothes skin.
Schuessler tissue salts
Schuessler tissue salts have a direct impact on tissues, increasing their vitality, improving their cellular structure. This serum contains Natrium phosphoricum that is responsible for regulating the acid-base balance of skin cells, and Natrium cloratum which regulates the fluid balance between the skin and connective tissues.
Our Mattifying Face Serum is recommended for:
treating oily and shiny skin
combined skin, when the T-zone is oily while other areas of the face have normal or dry skin
those who have problems with acne, large pores and inflammation, from teens to those with mature skin
evening out skin texture by shrinking large pores
Daily beauty tips
Due to its effective formula, this serum can be easily fit into the daily skin care routine as it absorbs quickly ensuring only a little amount of product is needed. Apply a small amount on clean skin and wait a little before continuing the skin care routine.
For daily use.
Can be applied on certain areas (e.g. T-zone) or on the entire face.
Sets
Schüssler Mattító szett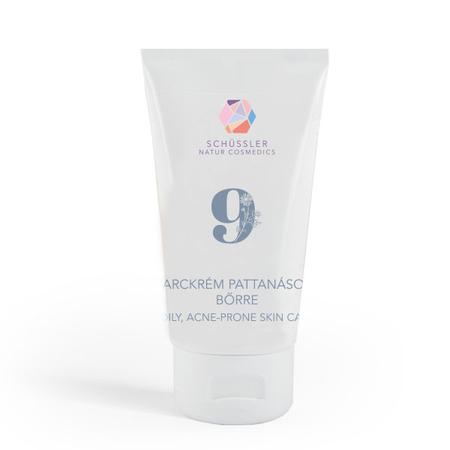 +
+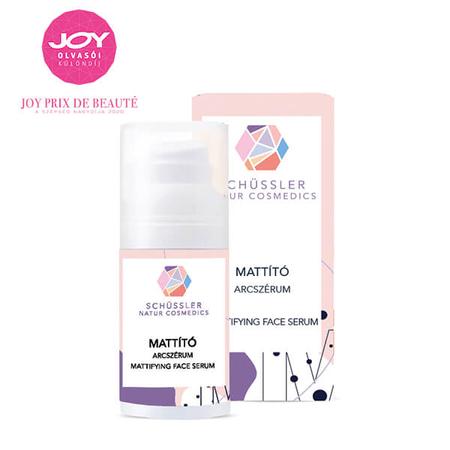 Ingredients
Ingredients: Aqua, (Sorbitan Stearate, Sucrose Cocoate)*, Oryza Sativa (Rice) Starch, Glycerin, Betaine, Propanediol, Rhodomyrtus Tomentosa Fruit Extract, Niacinamid, Phenethyl Alcohol, Glyceryl Caprylate, Parfum**, Calcium fluoratum, Natrium phosphoricum 
* COSMOS / ECOCERT certified ingredient
**  Hypoallergenic scent
Reviews

22 rating





Hajni
|

30/07/2021
Nagyon kevés is elég az egész arcomra. Könnyű felvinni, eloszlatni, és szinte azonnal felszívódik. Valóban matt lesz a bőröm, de 36 °C-ban, pár óra után fénylik az arcom újra. Az illata érdekes, megszokható, a bőr puhává válik tőle.
Szilvia
|

13/07/2021
Szuper, sokat segít a tini lányom problémás arcbőrén!
Krisztina Zvara
|

20/06/2021
Nagyon szeretem,kellemes az illata,az állaga a krémnek és tényleg mattît,egész nap nem fénylik az arcom és könnyű érzést ad!
Csilla
|

27/05/2021
Super termék!Kiválóan mattît egész nap, nekem bevált.
Henka
|

13/05/2021
Épp amit vártam szuper termék ez is :)
Szöginé Csikai Katalin
|

24/04/2021
A termékkel meg vagyok elégedve
Dobos Eszter
|

07/04/2021
Maximálisan megfelel a kombinált bőrömnek. A c vitaminos szérummal együtt vált be nekem igazán.
Eszter Nagy
|

30/03/2021
Nagyon jót tett a bőrömnek. Nem szárít, csak ajánlani tudom.
Tünde Kékedi
|

11/03/2021
Abszolút kedvenc, reggeli arctisztítást követően csak ezt a szérumot viszem fel a bőrömre. Valóban mattít, de nem szárít, pillanatok alatt beszívódik és kellemes tapintásúvá varázsolja a bőrömet.
Tünde Kékedi
|

11/03/2021
Abszolút kedvenc, reggeli arctisztítást követően csak ezt a szérumot viszem fel a bőrömre. Valóban mattít, de nem szárít, pillanatok alatt beszívódik és kellemes tapintásúvá varázsolja a bőrömet.
Zselicky Gabriella
|

19/02/2021
Tökéletes azokra a területekre az arcomon, amik zsírosodnak
Zsé
|

16/12/2020
Krisztina
|

11/12/2020
Pattanásos bőrömre használom a Schüssler arckrémet pattanásos bőrre reggel és este, kiegészítésként kezdtem el használni ezt a mattító arcszérumot, és csodát művelt az arcommal. Selymes lett, eltűntek a pattanásaim. Azóta csak a schüssler termékeket használom arcom kezelésére.
Ildikó Tóthné Román
|

06/12/2020
Krisztina Hedl
|

13/10/2020
Kellemes,könnyű állagú és illatú termék. A rozaceás arcbőrre nyugtató hatású,szépen letisztítja a bőrt a gyulladásoktól.
Tünde
|

17/07/2020
Violetta
|

07/07/2020
Mivel rosaceas a bőröm reggel a 10-es krémet használom és napközben mikor már egy picit zsírosodik a bőröm teszem fel az arcomra ezt a krémet. Nagyon kevés kell belőle tökéletesen beszívódik rögtön feszesebb lesz tőle a bőröm. Sokkal szebb és simább kevésbé pattanásos az arcom kb. egy heti használat után. Jó a pumpás kiszerelés , kíváncsi leszek meddig tart akkor majd azt is megírom.
Ilona
|

09/06/2020
Gyorsan felszívódik, de még nem érzem, hogy a fénylő bőrömön javítana, de még csak egy hete használom.
Ináncsi Csilla
|

07/05/2020
Nagyon jó. Már az első alkalomnál látszik az eredmény. Nem zsíros a bőröm! Köszi
Vali
|

27/04/2020
Néhány használat után kiválóra értékelem.
Iza
|

01/04/2020
Szuper! Pillanatok alatt beszívódik így rögtön fel lehet rá vinni az arckrémet is(ami szinten schüssleres ❤)
Valóban mattít. A többi szérumot is kipróbálom majd.
Szuper árú szuper termékek!
Edina
|

24/03/2020
Jó !!!
Mattit, kellemes illatú, gyorsan felszívódik.
Nálam a hatása csak 3-4 óra aztán újra zsirosan fénylik...
Más ilyen hatású terméket még nem próbáltam.